The CSHCN Services Program provides services to children with special needs and to people of any age with cystic fibrosis. Services include:
Comprehensive health care, which must be medically necessary.
Family Support Services, including respite (care by others to relieve a client's caregiver).
Case management, which helps clients find other services and resources in their area.
Help with insurance premiums payments for eligible clients; clients' insurance information must be current.
The program also strives to provide a medical home for each client. A medical home is a family-centered partnership between the client, the client's family, and client's main health care setting. Receiving care through a medical home can improve a child's health and make life easier for the child's family. 
The program promotes services that honor and respect families' cultural beliefs, traditions and values. 
---
Contact Information
TMHP-CSHCN Services Program Client Line: 877-888-2350
Call if you:
Have questions about health services or prior authorizations.
Were billed by your provider.
Need a copy of the Client Guide.
HHSC-CSHCN Services Program Helpline: 800-252-8023
Call if you:
Need an application or help renewing your application.
Need to report changes to your personal, household, or insurance information.
Need a case manager, or visit dshs.state.tx.us/regions/ to find a case manager in your region.
To contact the program, email cshcn@hhsc.state.tx.us or write to: 
CSHCN Services Program
MC 1938
PO Box 149347
Austin, TX 78714-9347
Helpful Links
Publications
Client Guide
Find more information about the CSHCN Services Program in the CSHCN Services Program Client Guide:
Newsletter for Families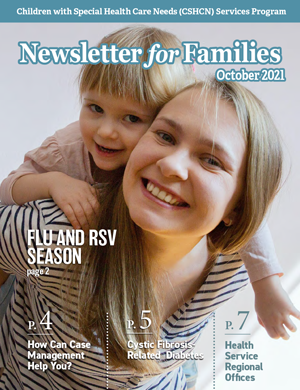 From health tips to program reminders, each edition of the CSHCN Services Program Newsletter for Families provides useful information for clients and their families. The newsletter is available in English and Spanish.
Note: To read the client guide or newsletter online, you need a recent version of Adobe Acrobat Reader. It is free to download.