This page offers information about provider education opportunities related to Electronic Visit Verification (EVV). The provider training for EVV includes computer-based training (CBT), infographics, EVV Portal job aids, instructor led trainings (ILTs), and portal demos, webinars, and the EVV Tool Kit.
TMHP Learning Management System (LMS)
The Texas Medicaid & Healthcare Partnership (TMHP) LMS is available to all providers and includes CBT documents and webinars. Click here to access the TMHP LMS. Providers must register and obtain a username.
TMHP EVV Training LMS Pages
Quick Reference Guides (QRGs)
EVV Claims Submission—Submitter ID and Receiver ID Quick Reference Guide (QRG)
EVV Claim Match Result Code EVV06: Units Mismatch
EVV Visit Details: Field Descriptions
EVV Visit Transaction Rejection Guide
EVV Portal Job Aids
Click below to access the EVV Portal Job Aids.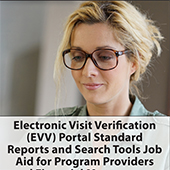 The purpose of EVV Job Aids is to:
Provide instructions for logging in to the EVV Portal.
Define the following EVV Portal standard reports that program providers and financial management services agencies (FMSAs) can access in the EVV Portal:

 EVV Attendant History Report
 EVV Clock In/Clock Out Usage Report
 EVV Provider Report
 EVV Reason Code Usage and Free Text Report
 EVV Unit of Summary Report
 EVV Usage Report
 EVV Visit Log Report

 Explain how to access the EVV Portal standard reports and use the report criteria to run reports.
 Describe EVV Portal search tools and explain how to use search criteria to run Accepted Visit Searches, Visit History Searches, and EVV Claim Searches.
Note: All reports located in the EVV Portal will only show EVV visit transactions with dates of service on or after September 1, 2019.
Frequently Asked Questions (FAQs)
Click here for a list of EVV FAQs for Managed Care Organization (MCO)-only enrolled program providers.