Texas Medicaid & Healthcare Partnership (TMHP) has selected two EVV vendors on behalf of the Health and Human Services Commission (HHSC): DataLogic Software, Inc. and First Data Government Solutions. All program providers and financial management services agencies (FMSAs), are required to select an EVV system to be in compliance with EVV state and federal law. It is important to note that CDS employers will use the EVV system selected by the FMSA.
For information on researching and selecting an EVV vendor see the following infographic (clicking on the image below will open a larger version):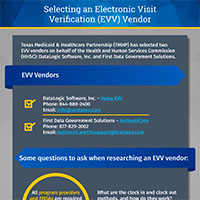 For more information on the steps you need to take to select an EVV vendor and the EVV vendor transfer process, refer to the HHSC EVV webpage under the Policy section.
If you transfer your current EVV system data from one approved EVV system to another, refer to the EVV Data Transfer Guide.
To contact an approved EVV vendor or to learn more about each vendor's system, click to expand the appropriate section below: